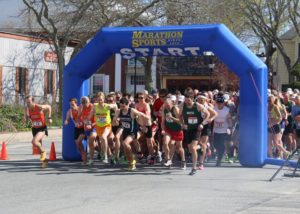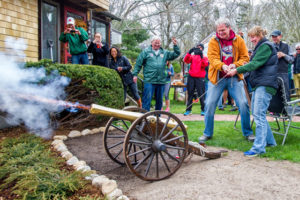 Marathon Sports Presents
The 5th Liam Maguire's Irish Pub Almost 5 Miler
A New England Runner Pub Series Event
Hosted by Lawrence-Lynch Corporation
Produced by PCB Race Management
4.9167 Miles, Sunday, May 5, 2019 at 9:30 am, Town Hall Square, Falmouth, MA
---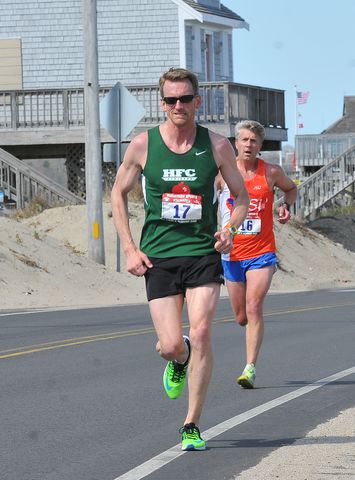 PCB Race Management is proud to stage the 5th Annual Liam Maguire's Irish Pub Almost Five Miler.  AND we are almost as proud to be part of the New England Runner Pub Series again! That what's got this thing started!! The race will be held in Falmouth, MA on an almost breathtakingly beautiful course. Following the race, a celebration of the sport will be held at Liam Maguire's Irish Pub with almost bounteous quantities of brew, a nearly lavish buffet, and entertainment.
Congratulations to all finishers of the 4th Annual Liam Maguire's Irish Pub Almost Five Miler held on May 6th, 2018! Results of the 2018 Race, including top finishers overall and in the age groups and team results may be viewed here.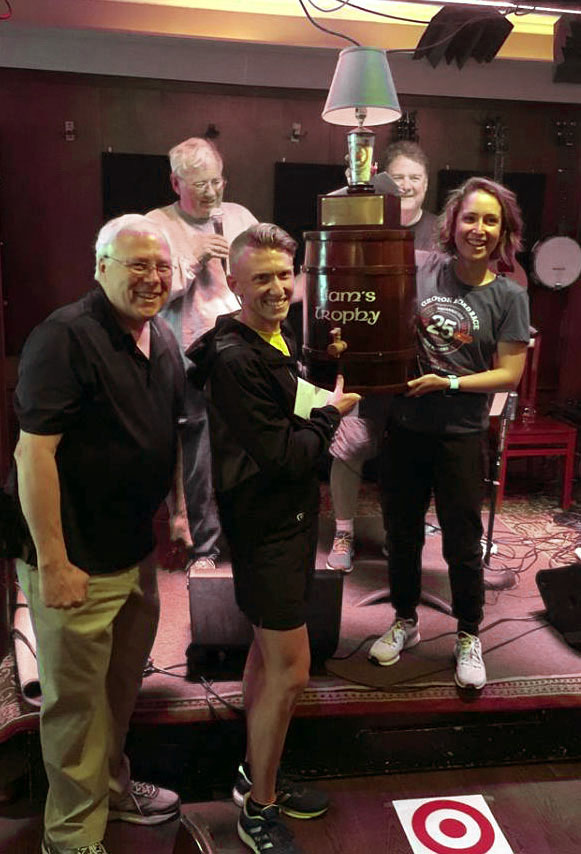 Special kudos to the winners of Liam's 18 — Nick Green who set a new course record of 25:33.2 and Heather Mahoney! Also two age group records were set. Greg Picklesimer set a new men's standard in the senior division (50-59) with a blistering 26:58.3 and Marge Bellisle's 35:04.7 was a new course record in the Veteran's division (60-69)!
Registration is now open for the fifth annual edition of Liam's Almost Five Miler to be held on Sunday, May 5, 2019 at 9:30 am in Falmouth, Cape Cod!
The race is a scenic tour of coastal Falmouth along Vineyard Sound and through quiet neighborhoods on a relatively traffic-free course. Before and after the race, there will be the now legendary jollifications at Liam's Maguire's Irish Pub and other venues. The race will again be limited to almost 500 runners (499 precisely). So plan on registering early!
T-shirts and commemorative beer glasses will be given to all runners who register by April 22, 2019. On race weekend, runners registering after that date will receive a t-shirt and beer glass based on the order of registration and as long as supplies last.
Race timing for 2019 provided by Racewire.
2018 Race results are available

here

and online at Coolrunning.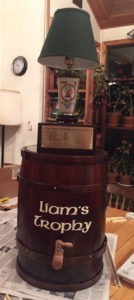 Awards: Real cash, merchandise prizes and gift certificates will be awarded to the top men and women finishers overall and in the following age groups: Junior (1-18), Open (19-39), Masters (40-49), Seniors (50-59)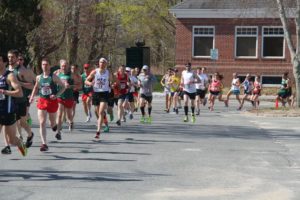 Veterans (60-69) and Ancients (70+).
Liam's Trophy will be awarded to the first man and woman and will almost visit the winner's hometowns where it will be his or hers for a day!
AGAIN THIS YEAR: CLUB /TEAM COMPETITION! Almost Coveted awards will be given to the top three coed teams of the clubs or Ad Hoc teams registering. When you sign up make sure to include your club or team name , and you will automatically be added to your club's or team's roster. The top three men and women finishers from that club or team will score, and the club or team with the best combined time will win!  Holy Cow! That's Almost exciting! See awards structure.
The awards ceremony will take place at Liam Maguire's Irish Pub following the race.
Registration:  Registration is now open. You may register on-line or by downloading an application and mailing it to us with a check for the entry fee which this year has been lowered to a penny-pinching $34.99 (Almost $35.00)! And as an added bonus, if you register on-line, we even even eat that annoying extra processing charge, which other races tack on at check-out! What's better to like than that!
All runners who entered during almost the first 2 weeks of registration in January were eligible to win an almost free entry! If you registered on or before midnight,  Superbowl Sunday, February 3, you will be almost a winner!  The final step will be a drawing for the 1 lucky male and 1 lucky female early-bird entrants to be held on April Fools Day.
Almost 500 runners (499, precisely) is the limit. All preregistered runners will be emailed their bib number assignments and race weekend information, including times and places for packet and bib number pick-up, beginning a week to 10 days before the race. Please go to our registration page for more information. Online registration will close on Friday, May 3 at 6:00 pm.
Post-Registration (if not filled) and Bib # Pick-up:  Saturday, May 4 at Liam Maguire's Irish Pub, 273 Main Street, Falmouth 02540 between 1:00 pm and 4:00 pm; Sunday, May 5 at Town Hall Square between 8:00 and 9:00 am.
Race Weekend Jollifications:
Pre-Race Gathering: Saturday, 4:00 pm to 6:00 pm at Liam Maguire's Irish Pub, 273 Main Street, Falmouth. Beer and appetizers will be available for runners and their guests. A warm-up for the main event! And a great opportunity to review race strategy, tell war stories and socialize.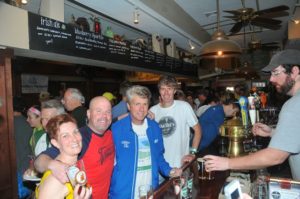 Post-Race Celebration: Sunday at Liam Maguire's Irish Pub, 273 Main Street, Falmouth from 10:00 am to noon for runners. Bar opens to public at noon. A buffet and beer and ale on draft for runners and their guests. Runners and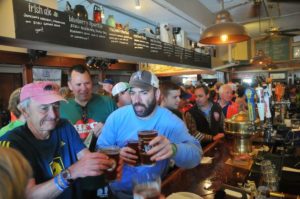 accompanied guests 21 and over will be given a beer bracelet at the door to get discounted beer and ale and food. Runners and guests must show their bib number and id to get a bracelet. The buffet will be complementary for runners, but all others will be asked to make a contribution for their meal.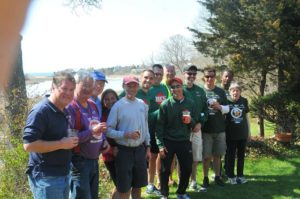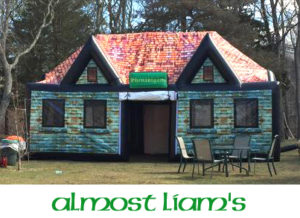 Post-Post-Race Celebration: Sunday at Courtney Bird's house overlooking Little Sippewissett Marsh, 43 Sippewissett Road, Falmouth — weather permitting! New this year: an inflatable pub called Almost Liams! And there will be even more brew on tap featuring Ireland's World Famous Guinness Stout and Martha's Vinyard's Offshore Ale — all accompanied by a barbecue. To top it all off, the notable new blues band, Retro Roots will play for your listening pleasure. To watch a video performance, click here. Party begins at 2:00 pm following the festivities at Liam's.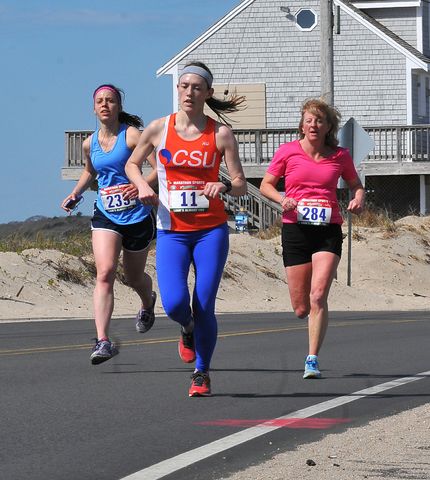 Hotel Partner:
The Falmouth Inn, 824 Main Street, Falmouth, MA 02540, Reservations tel: 508-540-2500, or www.falmouthinn.com. We hope you'll make a weekend of it! The newly renovated Falmouth Inn is Liam's Host Hotel and is offering a 10% discount to all Liam's runners for that weekend. The Inn is conveniently located in downtown Falmouth. To book a room, call the Inn at 508-540-2500 and tell them you are running Liam's Almost Five Miler to take advantage of this discount offer. For more info, visit the Inn's website, www.falmouthinn.com.
PCB Race Management is a team of three individuals with an extensive background road race organization and management. Russ Pelletier (P) was the Cape Cod Marathon Relay Director for 17 years and more currently is the director of the Falmouth Walk. Jack Carroll (C) won the Cape Cod Marathon in 1982, was a past Race Director of the Falmouth Track Club's Main St. Mile and is Treasurer of the Falmouth Track Club. Court Bird (B) is the senior citizen of the group. Court was the extremely successful Race Director of the Cape Cod Marathon for 30 years and was made part of this triumvirate to help him forestall boredom and keep his mind active.